Ethiopia has made remarkable progress in education, with primary school net enrolment tripling between 2000 and 2016 to the current 100 per cent. As children and young people comprise 48 per cent of the population, Ethiopia can lift itself out of poverty by ensuring children have access to quality education.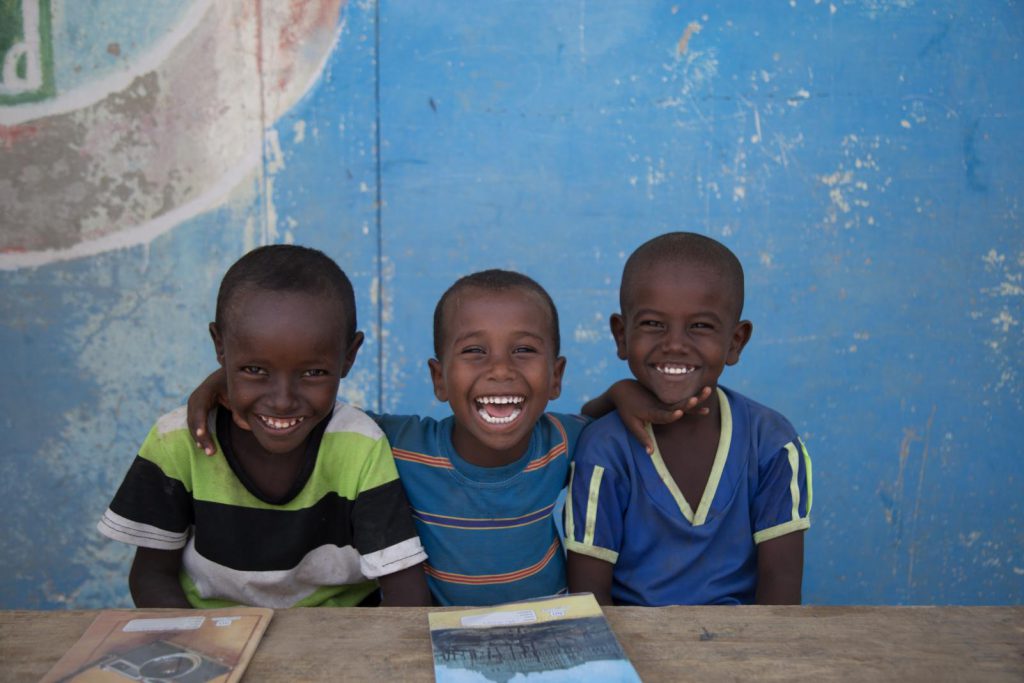 Although most children enroll in school, many do not complete their education: 85 per cent make it past Grade 5 and 54 per cent past Grade 8. 63 per cent of students in lower primary school are not achieving the basic learning outcomes needed to succeed higher up the education ladder (50 per cent and above).
Although pre-primary gross enrolment has increased to 46 per cent from 9 per cent in 2010, access is limited to children in urban and wealthier regions. UNICEF's support to formal and non-formal community-based ECE programmes is enabling more children to benefit from school-readiness programmes.
Approximately 2.6 million children of primary school age are not in school, of which 43 percent are boys and 57 percent girls. Only 25 per cent of secondary school aged children are enrolled in secondary school. Traditional gender norms, a high burden of domestic work (especially for girls), long distances to school are some of the barriers to education. Many of the out-of-school children are from pastoralist, internally displaced or refugee communities.
Ethiopia is the second largest host of refugees in Africa and the educational needs of these children place additional pressure on regions which already face challenges in delivering quality services to their own host populations. The country is prone to prolonged and multiple climate-induced and conflict-related emergencies that directly impact children's access to education.
To invest in quality education, UNICEF starts early since the basis to a skilled society lies in the early years. UNICEF supports quality improvements to the Government's pre-primary classes and develops flexible ECE methods for more hard-to-reach populations. To address the pervasive out-of-school problem, UNICEF strengthens girls' clubs and implements innovative programmes for pastoralist cultures that allow school to be flexible, while ensuring quality and relevancy to the cultures of each region.
To improve the quality of primary education, UNICEF invests in teachers through Assessment-for-Learning, an initiative that gives teachers skills to continually assess the progress of individual students to inform their teaching.  Given the considerable number of refugees and displaced communities in the country, investments are made in quality education to meet immediate humanitarian needs while seeking more sustainable solutions through integration with host communities.
Each programme is implemented in close partnership with the Ministry of Education and other development partners. Through engagement within the Education Sector's pooled fund, the General Education Quality Improvement Programme, UNICEF is using its range of experience, knowledge, and influence to leverage larger investments and bring a greater impact to improving the quality, efficiency and effectiveness of Ethiopia's education system.
With your help, we can build a safer world for children. Click the link below to visit our Just Giving page;
www.justgiving.com/fundraising/milan-capetown